Ivan Dragicevic's Speaking Schedule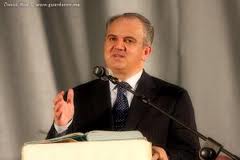 Ivan Dragicevic
- Ivan was born on May 25th, 1965 in Bijakovici. He is the oldest of three children in his family.
Our Lady has appeared to Ivan every day since June 24, 1981, and has, to date, confided nine secrets. Ivan married in 1994 and has four beautiful children. His family resides half the year in Medjugorje and the other half in the US.
Ivan: "The apparitions have made a big difference in my life - the difference between heaven and earth. For example, I arrange my day now so that even during the day I find time to pray. Before, my life had no meaning. Now, I'm filled with inner contentment. The first time I saw Our Lady, a change occurred in my soul, and in my heart. Before, I often avoided prayer, but now the difference is so great, I really can't describe it. I'm confident and not afraid, because I know who leads me, and therefore, I'm not afraid of death. People in our parish, and all people, should feel that way."
Ivan and his family spend May-September in Medjugorje and the rest of the year in the US spreading Our Lady's messages in parishes around the country.
During their time in Medjugorje, Ivan's family offers a personal prayer experience for a limited number of pilgrims in their home in Medjugorje.
[Click Here] - For More Information.
If you would like Ivan to speak at your parish, please ask your pastor if he would be interested in extending an invitation to Ivan. Once your pastor agrees, then please send me the invitation on the parish letterhead by scanning it and sending it as an attachment through email to anabonana12@gmail.com. You can also send the invitation to: The Medjugorje Web, 772 N. Peace Road, Dekalb, IL 60115.
DATE
PLACE
LOCATION
CONTACT
TIME
Apr 29, 2013
Notre Dame of Mt. Carmel Church
75 Ridgedale Ave
Cedar Knolls, NJ 07927
Contact: Jean 973-538-1358 x 304
http://www.ndcarmel.com
5:00pm-9:00pm
May 04, 2013
St Leonards Church
Prince & Hanover St, No. End
Boston MA 02113
Contact: Carol Cohoon 617-773-7238
carolcohoon@comcast.net
5:00pm-8:00pm
May 11, 2013
St Elizabeth Church in Cookham, UK
Small Church, Seats are limited
Contact: OurLadyInMaidenhead@gmail.com
01753564587
5:00pm-8:30pm
May 12, 2013
St Edmund Campion Church in Maidenhead, UK
Small Church, Seats are limited
Contact: OurLadyInMaidenhead@gmail.com
01753564587
9:00am-11:15am
May 13, 2013
Wallfahrtskirche Pollauberg
8225 Pollanberg 1
Austria
Contact: Pferer Roger Ibaunigg
Cell:067687426656 or roger.ibo@htb.at
6:00pm-9:30pm